Fine Arts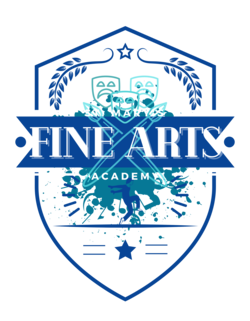 The Fine Arts program at St. Mary's School offers an intense Fine Arts experience delivered by highly trained staff. In addition to their core subjects, students are immersed in Band, Choir, Dance, Drama, and Art and are ambassadors of the school, the division, our city, and of the Fine Arts. Students are continuously in the community; they are frequently asked to perform and are often learning from professionals in the field by taking in shows, going on field trips, and learning from special guests. This program meets the needs of many students: those students who have a keen interest in the arts and enjoy working in them, and those students who see themselves pursuing a career in the Fine Arts.
The program also offers parents and students the flexibility to schedule private lessons and practice during the school day.
To protect the integrity of the program, class sizes are capped and therefore often operate at full capacity. In these situations, students wanting to enter the program are placed on a waiting list and currently enrolled students must meet certain standards. Therefore, to maintain the integrity of the Fine Arts program, parents and students must continuously strive to meet the following: 
Fine Arts Program Standards 
All Fine Arts fees must be paid in full or be arranged to be paid in installments. In extenuating circumstances, arrangements may be made to have fees waived but these arrangements need to be made in advance. 
Students must maintain regular and punctual attendance at school including Fine Arts engagements which take place outside regular school hours. 
Students must be an active participant in all Fine Arts subjects. Active participation is considered to be the regular and ongoing participation in the activities of the Fine Arts classes, including engagements which take place outside of regular school hours. 
Students must maintain an exemplary attitude, effort, work ethic, and interest in the Fine Arts. 5. Students will maintain positive behaviour in accordance with the MHCBE Student Code of Conduct. This includes the responsibility of being an ambassador of St. Mary's School. 6. Students must maintain a level of good academic standing or show evidence of academic accountability and improvement. 
Parents and students must agree to support and participate in the activities of the Fine Arts Parent Council. This includes the donation of a piece of student artwork, selected by a teacher-student conference, to the annual Fine Arts Wine Gala. 
Student performance in the Fine Arts program will be reviewed at the end of each reporting period, including the end of the academic year. Students found to be struggling with any of the above criteria may be required to meet with Fine Arts faculty, meet with administration, put on a period of probation, and/or
be removed from the program. The implementation of this process and interpretation of these standards are subject to the discretion of the Fine Arts Faculty and administration. Administrators reserve the right to have the final say in student programming. 
In the event that the number of students enrolling in a particular grade exceeds the capacity of the program, students in good standing (see Fine Arts Program Standards) will be selected in the following order: 
Current Grade 7 & 8 St. Mary's School Fine Arts Academy students 
Current Grade 6 students registered at and attending a Medicine Hat Catholic school 3. Current Grade 7 & 8 non-academy St. Mary's School students 
Current Grade 7 & 8 Notre Dame students 
New Catholic students to Medicine Hat Catholic once accepted into the division 6. All other new students to Medicine Hat Catholic once accepted into the division 
Once a class has reached capacity, all remaining students will be placed on a waiting list. In order to maintain a spot on the waiting list, students must be registered at St. Mary's as a non-academy student. As spots become available, students will be transferred into the Academy Program. 
Registration opens on February 1. All selection process criteria (see above) remain in force during open registration. On March 1, any further registrations will be processed on a first-come, first-served basis. Administrators reserve the right to have the final say in student programming. Parents will be notified by email regarding acceptance into the Fine Arts Academy program each spring. 
The Fine Arts Academy is a program of choice, therefore a fee will be charged to be in the program. All fee payments and arrangements are processed through School Cash Online. Payments can be lump-sum or scheduled up to 10 monthly payments. More information regarding payment plans will be provided at the beginning of the school year. 
| | |
| --- | --- |
| Fine Arts Academy Fee | $335 |
| Band Instrument Rental Fee | $90 |
| TOTAL | $445 |
Drama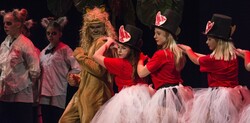 In the drama program, students are encouraged to give creative expression to their insights about themselves and the world.
They learn to interpret and communicate ideas and feelings through characterization, improvisation, scene work, and writing.
They also become more focused and physically aware while developing critical thinking, concentration, and observation skills.
Within the program, students engage in creative improvisation; learn to develop character, setting, dramatic action and conflict; create original dramatic pieces; enhance their interpersonal skills by working cooperatively with others; become aesthetically aware in evaluating drama; and develop their performance skills.
As an extra-curricular activity, students may elect to participate in school productions.
Band/Music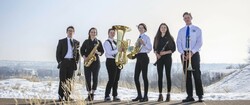 Music is an integrated program designed to accommodate the wide spectrum of student experiences and talents and foster a lifelong appreciation of world music.
Music study in grades five through eight takes many forms, including choral and instrumental ensemble participation, exploration of composition, analysis, listening and improvisation in the general much classes, and performing solo in recitals for family and friends.
Choral
Choral provides students with the opportunity to appreciate the work and discipline necessary for singing in a chorus, as well as the enjoyment felt from bringing a piece of music to life and the comaraderie that results from the process.
Repertoire is drawn from a wide range of styles, periods, and cultures. Students play an active role in exploring different choral techniques, voice parts, and repertoire. Rehearsals culminate in performances, both in school and for the larger community.