Faith Based Education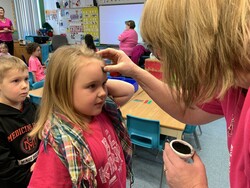 The Kindergarten religion program "In God's Image" consists of 8 modules containing 33 themes that can be sequenced by the teacher to best respond to the particular needs and interests of each class.
The "Me" module celebrates the child through such topics as feelings, senses, capabilities, needs and family.
The "Earth Times" module celebrates the wonder of the earth through activities related to the seasons.
The "Community" module celebrates caring through discussion, by making friends and by helping.
The "Changes" module invites children to experience support and comfort at such times as the birth of a sibling or moving to a new house.
The "Plants" and "Animals" modules celebrate creation through activities with trees, flowers, bugs, pets and other animals.
The "Special Days" module suggests activities for celebrating such events as birthdays, Mother's Day and Father's Day
The "Church Times" module is a sequential set of lessons that invite children to celebrate the Christian story as it unfolds through Advent, Christmas, Lent and Easter.
"In God's Image" uses the existing special moments and experiences of young children and affirms their religious importance. Throughout the day, children are encouraged to see traces of God in all their experiences.