"To provide a continuum of support for mental health and well-being for parents, students and staff",
MHCBE is committed to facilitating student mental wellness within a tiered support model in collaboration with community systems of care. Building mental health awareness, literacy, and expertise and addressing the challenge of stigma are key priorities. Emphasis is on the alignment of existing resources and strengthening community partnerships through collaborative communication, respect for confidentiality and the promotion of a shared language.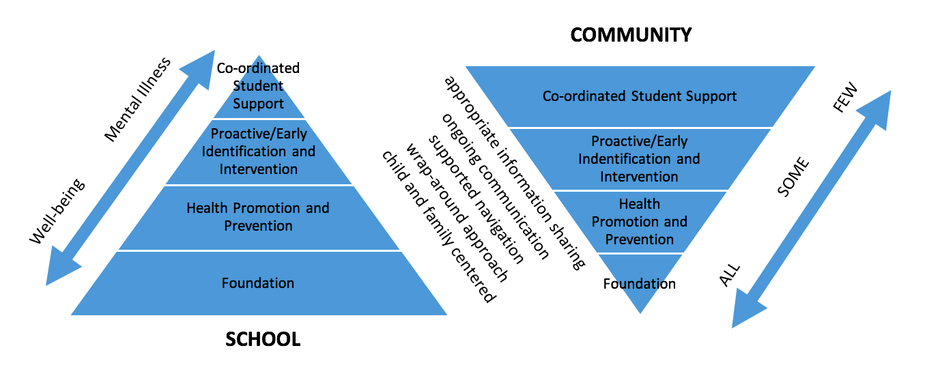 Within our continuum of supports framework, a student's strengths and capabilities are supported as necessary by resources in their natural and school networks and more formal supports are enacted based on their profile.
Schools have a vital role to play in a full system of mental health care. This role involves creating caring schools and classrooms, building self-regulation, executive function and social emotional learning skills, and helping to identify and respond to students in need of early intervention. Our role is most focused on promoting mental health and well-being for ALL students through universal approaches.
We can also help to identify SOME students with, or at risk for developing, mental health problems through targeted skill-building and referrals to mental health support teams. Our schools support targeted students through enhanced doses of skill development as a form of preventive intervention. This may include things like social-emotional skill building with behaviour assistants or anxiety management sessions with Alberta Health Services mental health staff that are placed in our schools. Our schools also support targeted students by implementing reasonable educational adjustments to the curriculum, learning environment, attendance and disciplinary procedures.
With the assistance of professionals with mental health expertise, we can lend support to the FEW students who require more intensive intervention while at school, ideally working in partnership with involved community agencies. MHCBE administrators, learning services staff and school mental health professionals can serve a crucial role with our most vulnerable students through program planning, coordinating integrated plans, supporting initial assessment, crisis response, transitions to, through, and from community services, and ongoing consultation and support in the school and classroom.
The MHCBE Mental Health Strategic Plan honours the work already being done in our system and community in the area of mental health and well-being and seeks to continue to…