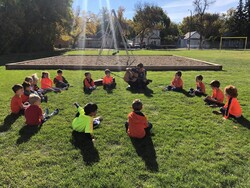 MHCBE's supports and services framework encompasses academic, social-emotional, and regulatory demands of learning and school functioning. As is evident in our Mental Health Strategic Plan, MHCBE recognizes the integration of academic, social-emotional, and regulatory development as critical to student success. 
All classrooms today include a growing number of students who will need different and/or additional supports to be successful. It is becoming increasingly clearer that every learner has unique support needs. A continuum of supports and services model provides a structure to address these individual needs and maximize student potential by emphasizing the system of support, rather than focusing solely on individual interventions. Many of these needs can be met through flexible and responsive universal classroom and school practices. However, some learners will require short-term or situation-based support in addition to what is available to all students, while others will need additional significant and ongoing supports. 
To this end, MHCBE offers a wide range of flexible and responsive approaches to supporting student success including:
→ Stable team supporting your child through their schooling (ELP through Grade 12).
→ Better able to ensure that what is being worked on from year to year gets carried forward. 
→ Same therapists within the school working with students across all grades.
→ Common forms and approaches to supporting your child across all grades (ELP through Grade 12). 
→ Not reducing services but may change how services are delivered.
Learning Support Teacher at every school! 
→ Supporting Early Learning Program (ELP) students. If you child is in a school-based ELP program, the Learning Support Teacher involved with your child in ELP will be the same Learning Support Teacher involved in other elementary grades. 
→ Supporting English Language Learners in each school.  
→ Completing academic assessments and supporting teachers in implementing recommendations 
→ Supporting classroom teachers to reach the whole range of students in each classroom.
→ Learning Support Teachers, along with school administrators, will be part of a division team that works to ensure common practice and approaches across the division. 
Click here to read more information about accessing Individual Support Plans (ISPs) and Safety and Regulation Support Plans (SRSPs) in CLEVR (our cloud-based electronic form tool).