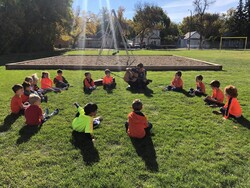 MHCBE's supports and services framework encompasses academic, social-emotional, and regulatory demands of learning and school functioning. As is evident in our Mental Health Strategic Plan, MHCBE recognizes the integration of academic, social-emotional, and regulatory development as critical to student success. 
All classrooms today include a growing number of students who will need different and/or additional supports to be successful. It is becoming increasingly clearer that every learner has unique support needs. A continuum of supports and services model provides a structure to address these individual needs and maximize student potential by emphasizing the system of support, rather than focusing solely on individual interventions. Many of these needs can be met through flexible and responsive universal classroom and school practices. However, some learners will require short-term or situation-based support in addition to what is available to all students, while others will need additional significant and ongoing supports. 
To this end, MHCBE offers a wide range of flexible and responsive approaches to supporting student success including:
Universal supports that are incorporated into the environment for all learners, such as flexible learning resources and technologies, differentiated instruction, and social-emotional and regulatory supports.
Targeted supports that are focused individual or group strategies or interventions and build from or add to universal learning and supports. Examples of what these may include are targeting the use of learning technologies, adapted or modified work, scaffolding steps, small group work or interventions, and peer support structures.
Specialized supports that build from and add to universal and targeted supports. Typically, these supports are highly individualized and specialized and require collaboration with home and community stakeholders to ensure continuity of goals and approach.