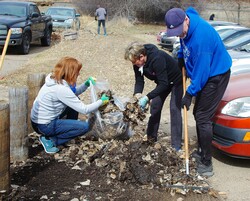 The Face of Christ Award
The Face of Christ Award (formerly the Power of One Award) was created by the Medicine Hat Catholic Board of Education to acknowledge a support staff member who deserves to be recognized for providing outstanding support to their school communities.
These individuals go beyond their job descriptions to make a difference in our Medicine Hat Catholic family. The recipient of the award will be given the funds to attend the SPICE (Shared Purpose in Catholic Education) Annual Spring Conference in Kananaskis and be recognized at one of our Board meetings.
Who is eligible?
To be eligible for this award a nominee must be a support staff member of the Medicine Hat Catholic School Division.
Who can nominate?
Teachers, parents, administrators, members of the parish community.
How do I nominate someone?
Ask permission of the individual to be nominated
Submit the nominee's name and form to the school administrator or to the Deputy Superintendent - Human Resources by the allotted deadline.

When is the deadline?
Nominations are due March 28, 2022
Being nominated for this award is an honour; therefore each nominee will be recognized as an Ambassador for Catholic Education and will be presented with a certificate at a board meeting.