School Bus Running Late? Inclement Weather Delays?
Sign up for "My School Bus Monitor" to get live school bus updates via email. Parents/guardians must register annually for these updates. www.myschoolbusmonitor.ca
If you have any questions about scheduling or route, please contact our partners at Southland Transportation at 403-526-4655
Winter Weather Safety Reminders
Winter weather conditions are coming! Parents/guardians are reminded to send children in proper winter clothing and cautioned to take extra care travelling to and from school.
All students should be well prepared for conditions caused by low temperatures and high windchills and should not be left unattended at bus stops or spend any extended period of time outdoors under any circumstance. Parents should form an emergency plan with their children so they have clear instructions on what to do if the bus does not arrive.
Heavy snowfall and winter road conditions can result in school bus schedules being unavoidably delayed. Busses will run as close to schedule as possible, but delays do occur and should be expected. Unexpected mechanical problems causing busses to cool off very quickly may occur more frequently at this time of year. Please ensure children are dressed warmly and appropriately for cold weather.
Sign up for Southland Transportation's My School Bus Monitor for local updates.
INCLEMENT WEATHER SCHOOL CLOSURE HIGHLIGHTS
Schools will remain open during inclement weather unless travel is not recommended.
Schools will only close during inclement weather when the Medicine Hat Police Service advises no travel on city streets.
School bus cancellation due to inclement weather will be determined by Southland Transportation and communicated to the School District by 5:30am.
Announcements about school closures will be posted on the division website and social media.
Parents have the ultimate responsibility in making the decision on whether children walk to school or to the school bus during inclement weather.

Emergency messaging will be sent via School Messenger by Email, Text Messaging and VoiceMessaging
Students should be coming to school each day dressed for the weather:
Warm Winter Coat
Snow Pants
Toque or hat (covered ears)
Mittens/Gloves
Warm Winter Boots
Parents are encouraged to visit Southland's website to verify stop points & times for bus routes.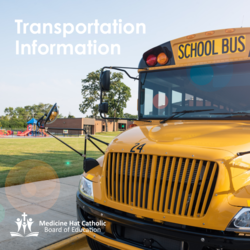 Medicine Hat Catholic Board of Education continues to work closely with Southland Transportation to create a positive school bus experience for all students.
Our sincere appreciation to all of the bus drivers and staff at Southland Transportation. Thank you for taking great care, making a difference & keeping our students safe every single day.
We Appreciate Our Bus Drivers
Our sincere appreciation to all of the wonderful bus drivers and staff at Southland Transportation. Thank you for taking great care, making a difference & keeping our students safe every single day.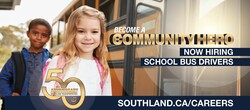 SOUTHLAND is currently seeking dedicated and safety-minded School Bus Drivers to join our team.  This is an essential role that offers job security, a flexible schedule and allows you to make a difference on the front line by transporting our children to school safely.  
Existing Class 1 or 2 drivers will receive a $3,000 hiring bonus and all other license classes will receive a $1,000 hiring bonus!  Receive half after 3 months and the remainder following the completion of the school year.
Why You Should Choose SOUTHLAND
Competitive wages, bonuses, and flexibility within your personal life
Modern fleet
Evenings, weekends, school holidays (Christmas, Spring Break etc.) and summers off
Free training
Referral bonuses
Save on daycare - bring up to two pre-school aged children with you
Employee recognition programs such as long service awards, safety awards, employee recognition banquets
Mentorship program, professional development, employee engagement opportunities, and a chance to advance in a growing company
Nationally recognized professional driver training program
Bus Routes, Pick Up Locations & Times
Contact Southland Transportation
Hours 6:00 a.m. to 6:00 p.m.
403.526.4655
www.southland.ca/medicinehat
Helpful Links
Transportation FAQ's
Transportation Handbook
Student Conduct
Weather Conditions
Winter Weather Safety Reminder
Contact
Eligibility
Contact Central Office
403.502.8351

Bus Routes, Pick Up Locations and Times
Contact Southland
403.526.4655

Points & Times
www.southland.ca/medicinehat