The history St. Louis School on Balmoral Street
Posted on Oct 25, 2021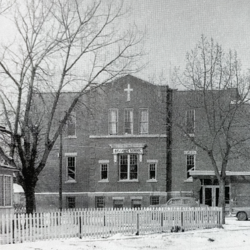 The school building formerly known as St. Louis School has officially been sold. The sale of the 110-year-old building was approved by the Board of Trustees at the Public Board Meeting on October 12. 
The school building located on Balmoral Street has been called home by many teachers and students over the last century. 
The History of St. Louis School
On January 3, 1913 the Sisters rang the bell for the first time for 66 pupils in the beautiful brick two-story School on Balmoral Street, marking the first day of education in a Separate School Institution in Medicine Hat, namely the St. Louis Roman Catholic Separate School District #21. St. Louis School remains the pioneer structure of the Catholic School System; a system that has grown from those 66 students in 1 school to approximately 2800 students in 10 schools in Medicine Hat and Bow Island. 
In the early days, the top floor of St. Louis School was the living quarters for the Sisters of Charity of St. Louis until St. Theresa's Academy Convent was completed. A significant addition and renovation to St. Louis was completed in the fall of 1955. Over the years the school continued to flourish and in the year 2000, a portable classroom was added. 
In 2001 the Board of the day determined that additional space was again required and at that time purchased the former Montreal Street School Building located at 861-4th Street SE and moved the students to that location which is now the home of St. Louis School. Significant renovations were completed on the historic building, with the entire top floor of the school dedicated to the library. The renovated school structure is one of the finest facilities in the Division and in our region. The building's foyer is enhanced by a large brick mural depicting the history of the Sister of Charity of St. Louis in Medicine Hat.