Red Shirt Day 2023
Posted on May 24, 2023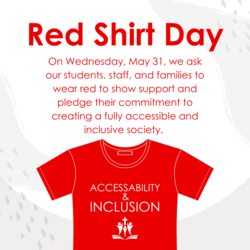 What is Red Shirt Day?
Red Shirt Day for AccessAbility and Inclusion is a day when people across Canada come together and wear red in schools, workplaces and spaces everywhere as a visual display of support and celebration of our friends with different abilities ❤️
Why are we encouraged to wear red?
To show support for persons and families who are living with disabilities
To celebrate the achievements of people living with disabilities
To pledge commitment to help create a fully accessible and inclusive society that honours and values the contributions of people of all abilities in all aspects of life.
Red Shirt Day takes place on the Wednesday of National AccessAbility Week each year. In 2023, Red Shirt Day will take place on May 31, and National AccessAbility Week is from Sunday, May 28 to Saturday, June 3.
Red Shirt Day Pledge
Red Shirt Day participants are encouraged to make a commitment—a pledge —to educate and inform themselves on issues related to disability and do what they can to remove physical, attitudinal and systemic barriers and make their schools, workplaces and communities accessible and inclusive for people of all abilities.
On Red Shirt Day, write your pledge on a sheet of paper and take a selfie/group photo with your pledge(s) while wearing red. Or include your Red Shirt Day pledge in the text of your social media post. Click here for the pledge sheet
On May 31, post a selfie or a group photo of you with your friends, classmates or colleagues – all wearing red – on social media with the hashtags #RedShirtDay, #RedForAccessAbility, #EasterSeals, #unstoppABLE.
Red Shirt Day is an Easter Seals initiative and was first celebrated in 2019.