PD Day Childcare
Posted on Sep 11, 2023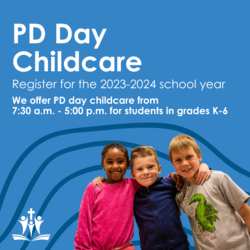 *Register now for September 22 and October 6 PD Days* 
PD Day Childcare
The Medicine Hat Catholic Board of Education is thrilled to offer a new program to convenience our MHCBE families. Our division offers PD Day and School Break Childcare for our students from Kindergarten to Grade 6.
Registration is now open for the 2023-2024 school year!
In the registration form, parents will be given the option to tentatively select preferred dates of attendance.
Following the submission of this form, our PD Day Childcare Coordinator will contact each family directly. This staff member will share details regarding the payment process and provide further information about the program.
Register today!

Please contact the PD Day Childcare Coordinator, Tammy Stovka at tammy.stovka@mhcbe.ab.ca to request to have the pre-populated program registration form assigned to you.

Registrations will be completed through our registration website SchoolEngage. You will need to know your PowerSchool Parent Portal password for existing students or your SchoolEngage password for new to the division students.
**Please Note Registration for August 28 and August 29 2023 needs to be submitted by June 23.
     When do we offer PD Day Childcare?