Opt In to Receive Text Messages
Posted on Aug 17, 2021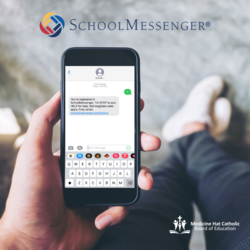 The Medicine Hat Catholic Board of Education uses SchoolMessenger to communicate important information with families throughout the school year. Each year, parents/guardians must re-register to receive text messages from the school division.
If you would like to receive general SMS messages (general or emergency) from MHCBE you need to opt in by texting Y or YES to our six-digit SMS number: 978338.
There is no extra cost to receive SMS messages from the MHCBE, but standard message rates and data charges from your carrier may apply when you receive messages from us.