Minister's Teacher Advisory Council
Posted on Jul 13, 2021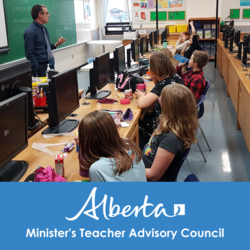 The Minister's Teacher Advisory Council (MTAC) is a forum for current, certified K-12 teachers with a broad range of experiences and diverse views from across the province to provide the minister with insights, suggestions and perspectives on key education topics. The MTAC's work is intended to complement the work of the Alberta Teachers' Association.
Read the Minister's Teacher Advisory Council fact sheet
Purpose
MTAC will:
offer diverse perspectives to the minister and ministry staff on key education priorities and emerging topics relevant to Alberta's education system
foster open and respectful dialogue between the Minister of Education and Alberta teachers
continue to build healthy and strong partnerships
enhance the government's ability to understand and serve the growth needs of schools and learning in Alberta
Topics and issues relevant to collective bargaining negotiations will not be discussed by any of the minister's advisory councils.
Membership
The council will consist of 40 teachers that reflect the Alberta government's commitment to diversity and inclusion. MTAC membership will includes diversity in gender, geographical representation, job functions and roles, teaching experience, and so on, as represented with Alberta schools and the communities they serve.
Each member will be selected to serve one 10-month term. The council will meet 4 times during a term. Meetings will be held outside of work hours and will likely take 5 to 6 hours in duration over 2 workdays or on a weekend.
Meeting schedules will be posted here when available.
Eligibility
Teachers in Alberta are able to apply online if they meet the following criteria:
attained an Alberta teaching certificate – interim or permanent
Application
To apply for the committee, interested educators must complete a short application that includes responses to 4 questions.
Applications are open until August 31, 2021.