Match Day '22
Posted on Oct 14, 2022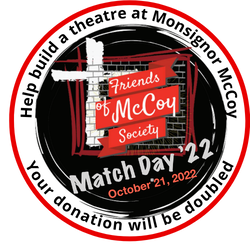 A HUGE thanks to all who donated on Match Day! Friends of McCoy raised: $158,516
On October 21, 2022, an anonymous donor will match dollar for dollar any amount donated to the Friends of McCoy Society in support of building a theatre at Monsignor McCoy. This event will be known as Match Day '22! This anonymous donor has already donated $10,000 towards the construction of the theatre, and all funds collected on Match Day '22 will be matched over and above the $10,000. 
How can you donate?
On October 21 you will be able to make an online or in-person donation. Income tax receipts will be available for any donation above $20.00. Please remember, to be matched, your donation must be received on October 21, 2022. 
Important Documents:
If you have any questions about this fundraiser or if you would like to sponsor Match Day '22, make a major donation and be included in any of our advertising please contact the following:
Helen Snortland, Vice-President, Friends of McCoy Society 
(helen.snortland@gmail.com or 403-526-0891)
David Leahy, Fundraising Coordinator, Friends of McCoy Society 
(david.leahy@mhcbe.ab.ca or 403-952-8002)
More information about Match Day '22 will be distributed in the upcoming weeks. Please share this opportunity with family and friends!