Introducing: St. Joseph's Education Centre
Posted on Nov 18, 2021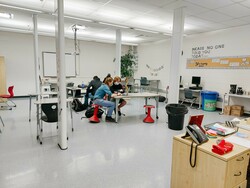 The Medicine Hat Catholic Board of Education is working with students to provide support which goes beyond that of traditional learning with the St. Joseph's Education Centre at Monsignor McCoy High School. The goal of the Education Center is to deliver diverse learning opportunities to meet the needs of our students.
The centre, which was introduced at the beginning of the fall school year, is an amalgamation of an in-person learning support centre and a virtual classroom, housed in two connected learning spaces; one which acts more like a study space and is primarily used by students attending virtual classes and one which has all the amenities of a classroom, but offers students more freedom as well as one-on-one educator and mental health supports.
St. Joseph's Education Centre values the importance of giving students the time and attention they need each week to successfully meet their learning goals. The learning journey looks different for each student, that is why the school uses a blended learning approach. 
MHCBE launches St. Joseph's Education Centre at Monsignor McCoy - Medicine Hat News