Face of Christ Award 2023
Posted on Apr 18, 2023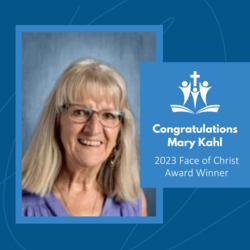 The Medicine Hat Catholic Board of Education is pleased to announce that Mrs. Mary Kahl is the 2023 Face of Christ Award winner!
Mary has dedicated 25 years of her career to Medicine Hat Catholic schools and is currently a learning assistant at St. Michael's School. Throughout her 25 years, Mary has worked as a learning assistant at St. Thomas Aquinas, St. Francis Xavier, St. Mary's, and Mother Teresa.
Mary sees the goodness in every child and has been described as a hard worker who gives more than 100% in every task and interaction with people. She draws the best out of students and gives them a greater sense of pride and self-worth in the tasks they perform. Her smile, friendly personality, and positive attitude impact staff and students, making St. Michael's School a better place because of her presence.
The Face of Christ Award is a division award acknowledging a support staff member for providing outstanding support to their school community. Mary will be recognized at the Public Board Meeting on June 6th at 4:30 p.m., held at Central Office and live-streamed on our Youtube Channel.
Congratulations Mary!