Community Engagement
Posted on Oct 18, 2022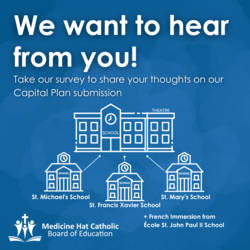 The Board would like to invite you to complete a survey to share your thoughts on our 3-Year Capital Plan.
After meeting with the Minister of Education in May 2022 a concept for a new division consolidation project was created. The submission includes a Theatre/Physical Literacy space and a new K-9 school building. The consolidation, if approved, would include St. Michael's School, St. Mary's School and St. Francis Xavier School. The new building would replace the existing St. Francis Xavier School. French immersion students from École St. John Paul II would also move to the new campus to allow for K-12 French immersion in one location.
At this point in time, the division consolidation plan is only a request to the government. It has not yet been approved. The cost of the total project is estimated at $56,180,736. 
Please complete the survey so we can hear your thoughts, comments, and/or concerns regarding this submission.