Catholic Education Sunday - Nov. 5
Posted on Oct 19, 2023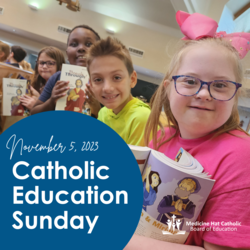 Sunday, November 5 is Catholic Education Sunday!
This special day gives us the opportunity to celebrate publicly funded Catholic education, a gift that we acknowledge with deep gratitude. It is a privilege to provide faith-based education to more than 2900 students in the city of Medicine Hat!
Donations collected on Catholic Education Sunday at our local parishes directly support our students. Each year grade 4 students across the division are gifted their very own bibles with funds collected on the previous Catholic Education Sunday.
November 5 Mass Times:
Holy Family Parish times: 8:30 a.m., 10:30 a.m. (Monsignor McCoy School Sponsored Mass) & 6:00 p.m.
St. Patrick's Church times: 9:00 a.m., 11:00 a.m. 
Letter from the Bishops of Alberta and NWT
Catholic Education Prayers of the Faithful for November 2023
For Catholic Education: That our Catholic schools may reveal the glory of God in all that they do, we pray to the Lord
For Catholic Education: That our year of 'Courage to Lead' may be rooted in the synodal practices of listening, dialogue and discernment, we pray to the Lord
For Catholic Education: That our Catholic schools may nurture the growth of wisdom and virtue in the young, we pray to the Lord
For Catholic education: For unity and solidarity within our communities, we pray to the Lord