I love my Catholic school because...
Posted on Nov 17, 2021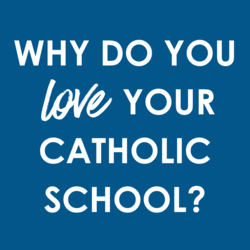 MHCBE is looking for Catholic school testimonials from students and their families.
From academics, support services, gospel values all the way to school activities and sports. We want to know why YOU love your school.
Parents/guardians are kindly asked to participate in this activity with their children by simply asking them why they love their school. It's that simple, we promise! Click here to submit your answer.
The "I love my Catholic school" project is intended to collect real, raw and meaningful information from our students and their families to help promote Catholic schools during February Registration and for use in future projects. By participating in this activity, you are helping us better understand the values that our students and school community members hold.
If your submission (or child's submission) has been selected for promotional use, you will be contacted directly with details.
Thank you for supporting Catholic education in Medicine Hat!