Catholic Education Week
Posted on Apr 24, 2023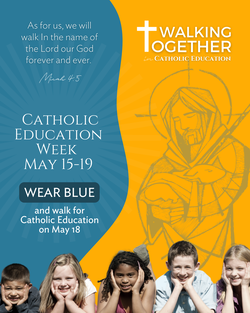 Catholic Education Week 2023 - Walking Together for Catholic Education
During the month of May we celebrate the gift of Catholic education! From May 15-19, each of our Catholic schools will be taking part in themed activities based on the 5 Marks of a Catholic School and the 5 Marks of a Education Catholic Student. We are all invited to wear blue on World Catholic Education Day, Thursday, May 18.
 

May 15

May 16

May 17

May 18

May 19

Daily Theme:

Mark 1
Created in the Image of God

Mark 2
Catholic Worldview

Mark 3
Faith Permeation

Mark 4
Gospel Witness

Mark 5
Spirit of Community

Daily Prayer Intentions

We pray for everyone to know that they are made in the image of God.

We pray that our Catholic schools may show the love of God in the world.

We pray that we see God in all of our classes and in each other.

We pray for the courage to be witnesses of God's love in our society.

We pray for all families, that they may grow in faith and unite in their prayers.

Daily Activity Inspiration

Daily Video Messages from the Bishops of Alberta

Archbishop Pettipas

 

 

Virtual Mass at 10:00 a.m.
Prayer Intentions for Catholic Education Week
That our Blessed Mother may wrap all children in her mantle of love and bring them ever closer to her Son, we pray to the Lord.
That during our celebrations of Catholic Education Week in Alberta, we may continue "Walking Together in Catholic Education" with unity and common vision, we pray to the Lord.
In gratitude for the gift of publicly funded Catholic education, we pray to the Lord.
Additional links:
Letter from the Catholic Bishops of Alberta and NWT
5 Marks of a Catholic School
5 Marks of a Catholic Teacher
5 Marks of a Catholic Student