Catholic Education Sunday
Posted on Nov 1, 2021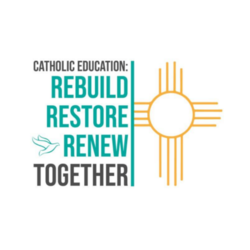 Sunday, November 7 is Catholic Education Sunday!
This special day gives us the opportunity to celebrate publicly funded Catholic education, a gift that we acknowledge with deep gratitude. We are grateful for the opportunity to provide faith-based education to more than 2800 students in the City of Medicine Hat and surrounding area.
This year's theme for Catholic Education Sunday, "Rebuild, restore, renew, together." resonates deeply with the context of our lived reality. Rooted in our faith, we remain people of hope trusting in the Lord. This theme will remain the same for the entire school year including Catholic Education Week and World Catholic Education Day.
Donations collected on Catholic Education Sunday at our local parishes directly support our students. Each year grade 4 students across the division are gifted their very own bibles with funds collected on the previous Catholic Education Sunday. 
As we prepare for Catholic Education Sunday, please join us in a Journey with St. Joseph novena from October 28-November 5 The novena can be found here.
A letter from the Bishops of Alberta and Northwest Territories
'I will restore you to health and heal your wounds, declares the Lord.' Jeremiah 30:17