Career Education Task Force: AB Government
Posted on Nov 21, 2022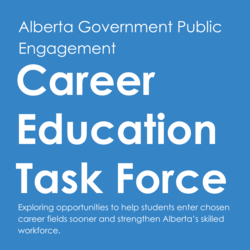 The Career Education Task Force will review career education programming and provide strategic advice and recommendations to strengthen connections between schools and jobs. 
The task force will focus primarily on career education for grades 7 to 12 and how to effectively prepare students for their transition into post-secondary studies or employment. Current programming includes opportunities like career and technology studies, dual credit, apprenticeship and work readiness programs.
Albertans can share their perspectives with the task force by completing an online survey and participating in virtual and in-person engagement sessions.
This work will ensure students get better access to practical, foundational learning opportunities while helping build a qualified, educated, and engaged workforce to support Alberta's economic prosperity.
To have your voice heard, please complete the following survey: