Welcome back to another year of learning, faith and family - Superintendent's Blog
Posted on Sep 1, 2020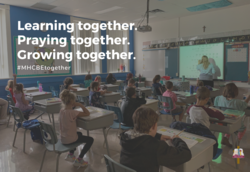 Welcome back to another year of learning, faith and family! And a special welcome to all of our new students and families that are joining us this year! We are so excited to have all of you be a part of our Catholic School community! We take our partnership with you very seriously, which means that we are devoted not only to your child's learning, but also to their safety.
Our role as Catholic educators is to form and educate your children right alongside you. We believe that parents are a child's primary educator. Please know that we are there for your child supporting you in this most important journey.
We are privileged to spend at least 180 days over this next school year with your children. It is our commitment to you to have Catholic schools focused on your child's safety, academic excellence and the intellectual and personal formation of their faith. What we care about most is the inherent dignity that each of your children have, formed in the image of God. Together, we will create a community, focused on the development of your child. Your children are the reason that our staff have been working so hard over the summer to ready for the start of the school year and why they care so much!
Thank you for entrusting your children to us. Thank you for your many sacrifices that you make for your children. Finally, thank you for your willingness to work with us in the formation and education of your children!
May the upcoming school year bring an abundance of blessings for you, your children and your family!

God Bless!

Dwayne Zarichny