One year later - Superintendent's Blog
Posted on Mar 12, 2021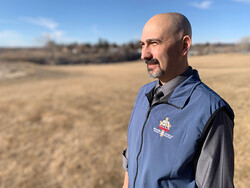 It is hard to imagine that it has been a year since we have found ourselves immersed in the middle of this pandemic! Looking back at the Minister's announcement is like opening up a time capsule. There was an immediate focus on working from home, sanitization, cleaning and online teaching and learning. There was hope that mitigation strategies would have us return to "normal" by the summer. And now we find ourselves, a year later with most enhanced restrictions still in place and the words quarantine and isolation seemed to be imbued into everyday discussions.
To say that the past year has been a year of transformation would be an understatement. Online meeting software such as Google Hangouts and Zoom have gone from something that folks were aware of to tools utilized everyday. A paperless classroom went from a far-off goal to a new reality in an instant. All of us received a crash course in using technology.
Aside from work, however, our personal lives have also been impacted. How we buy groceries and essentials has changed…..and we cannot forget the great toilet paper crisis! We are growing accustomed to not being able to have family visits - even though we can't stand the notion. The sale of treadmills and Peloton bikes have skyrocketed as people try to find ways to stay connected, while churches were shuttered.
It is normal, when reflecting on the last year, to focus on the more difficult things. However, we have also been blessed in many ways during the course of the last year. As educators, we are more technologically skilled than we ever have been. We are also better able to relate to the digital world that our students live in. Parents have gained a new appreciation for the work that takes place in schools, and have developed a wider variety of skills that they can use to support their children. 
As families, the importance of staying connected is more evident than ever. Parents have had the opportunity to spend more time with their children during lockdown than they would have been able to imagine. We have an acute understanding and a newfound appreciation for all of the essential workers that support our daily lives, and more people than ever before are accessing nature as a retreat. Our churches have found a new way to evangelize and stay connected with their parishioners, and there is a renewed desire to return to mass.
When we look back at this time, we will all have our stories of trial to share. I would encourage you however to focus on the stories of success, and to learn from them. While we have sacrificed much, take time to reflect and purposefully choose the new paths that you want to continue on. Keep checking in on family, the elderly and your neighbours. Show your appreciation for all of those who continued working despite the risks. God calls us to love and serve one another. In this time, and moving forward we need to answer this call. There will continue to be challenges and frustrations. May God grant us the wisdom to view these as opportunities to serve others. 
 "[He] is our refuge and strength…..therefore we will not fear." -Psalm 46
Dwayne Zarichny
Superintendent of Schools
Medicine Hat Catholic Board of Education