Education Week - Superintendent's Blog
Posted on Apr 30, 2020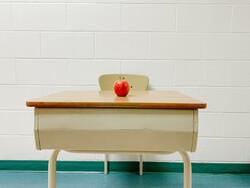 This year, Education Week runs from April 27 to May 1. But this year is like no other year. Normally, Education Week is a time to recognize the many partners that make the education system in Alberta, one of the best in the world. This year, however, Education Week is a time to stand in admiration of our partners. Staff, students and parents have come together and in a blink of an eye, developed and implemented a completely new way to approach education. In a "normal" year,  this would typically require months of planning and testing prior to implementation. In our jurisdiction, the bulk of this work took place literally over a few days. This could only happen with the combined efforts of our staff, students and parents. It has truly been an amazing transition, and so this Education Week is an especially important one where we salute all of the partners in our system. Please know that we are proud of you and that all of your hard work is sincerely appreciated!
Last week I came across this prayer that I thought would be appropriate to share with all of you:
For weeks I have heard people saying " I just can't wait for things to be back to normal." I remember even saying that a few times myself. But as I've thought about our current situation I have realized how much I don't want things to go back to the way they were. Here are a few thoughts...

I pray that the next time a friend grabs me and pulls me in for a hug, I actually take the time to appreciate the gift of their embrace.
I pray that when school resumes and you are dropping your kids off, you take the time to thank the staff for the amazing gift that they give to your family.
I pray that the next time I'm sitting in a crowded restaurant I take the time to look around at the smiling faces, loud voices and thank God for the gift of community.
I pray that the next time I'm standing in church listening to the voices of praise and taking communion that I take a moment to thank God for the gift of congregation.
I pray that the next time I see a person or situation that needs prayer, I hope I pray as passionately and fervently as I have these past few weeks.
I pray that when I am at the grocery store that I take a moment to thank God that He provides us with the necessities of life and the amazing people who work so hard to keep us supplied.
I pray that I never again take for granted the ability to hop in the car and visit a friend, go to the mall, take my kids to a movie, etc.

So, the truth is, I don't want things to return to the way they once were. I pray that we take the lessons and challenges of the past few weeks and create a new normal.

My goal is to pray more, love harder, and truly appreciate the daily abundance of blessings that were so easily overlooked just a mere few weeks ago. If someone tells you they love you, take it to heart!
I can't take credit for writing this, but I sure do appreciate and support what is being said. I pray that with God's help, I can be this after everything is back to "normal."
God bless you all!
Dwayne Zarichny
Superintendent of Schools
Medicine Hat Catholic Board of Education