A Message to our Students - Superintendent's Blog
Posted on May 13, 2021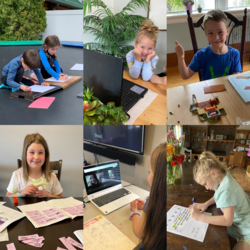 Even though how we interact with you has changed, please know that we are as committed to you as ever.
You are the most important part of our job. School is important, but so is your health. Take care of yourself and each other. Be proud of yourself and what you have been able to do.
You may be feeling anxious, frustrated, upset or worried… your feelings are real, and are acknowledged. You matter, and we miss you!
Please take time for yourself, stay safe, and trust in the Lord. We know what is possible when we trust God to lead us! During the next week, we will learn when we will return to in-school learning. In the meantime, we know that you have the ability to work through the challenges that face you… you have done it before, and we have witnessed your strength, your grace and your resilience! We are proud of each and every one of you!
During this time, I encourage you to find ways to make a difference. Call or text someone (a friend, grandparent or a cousin) just to say hi. We know that being at home all the time is tough, but please be extra kind and supportive to your siblings and family. Learn some family history or read together.
Know that you matter, you are loved, that we miss you, and if you need anything — even just to talk — we are here for you!
All of the people who are there for you in school haven't gone anywhere. They are simply waiting to get back together with you. You are their purpose, and they feel a little lost without you.
We simply can't wait to be back in school with you!
8 Things God wants you to remember:
I will answer you
I am for you
I will not fail you
I will provide for you
I will give you rest
I will strengthen you
I will be with you
I LOVE you