We're back! - Superintendent's Blog
Posted on Aug 25, 2021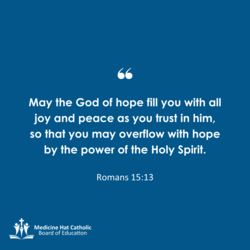 As a new school year begins, we are looking forward with anticipation for a year that brings us back to "normal." The past year has certainly provided us with a number of challenges. Yet as we look back, we realize that there have been a number of blessings as well. As much as we hope to have the last year behind us, we need to reflect on it with gratitude as well. We have overcome, and will continue to meet the challenges that we will encounter. God is ever near to those who need them most, and we need to reach out to him and trust in him!
As we begin the new school year, I understand that there is a lot of anxiousness, for a variety of reasons. It has been just a few short years since I joined the Medicine Hat Catholic family. When I met with staff for the first time, I shared that whatever we will face, we will face it as a family. The last year and half certainly put those words to the test. Our staff, students and parents did an amazing job of coming together, as a family to navigate the challenges that we faced. As we transition away from this pandemic and into a time of healing, we too will do this as a family. Everyone has done their best, and your best has truly been amazing!
I look forward to the new school year, to being able to visit schools and students and to be able to meet the families that we serve. I hope that his year is filled with joy and hope, and that it is your best year yet!
May the God of hope fill you with all joy and peace as you trust in him, so that you may overflow with hope by the power of the Holy Spirit. Romans 15:13
Stay blessed!
Dwayne Zarichny
Superintendent of Schools
Medicine Hat Catholic Board of Education