Chief Gordon Earl Scholarship 2023
Posted on Jun 26, 2023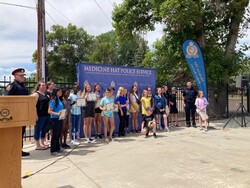 On Saturday, June 24, six exemplary students from our division were honoured with the Chief Earl Leadership Legacy Fund Scholarship.
Recognizing Grade 6 students, the Chief Earl awards are given to those who demonstrate leadership qualities in concert with the Medicine Hat Police Service's core values: integrity, respect, courage and accountability.
We are so proud of this year's recipients!
Layla Bell - École St. John Paul II School
Angela Payas - Mother Teresa School
Andreana Wright - Notre Dame Academy
Addyson Darr - St. Francis Xavier School
Jemma Walters - St. Louis School
Nash Osman - St. Michael's School