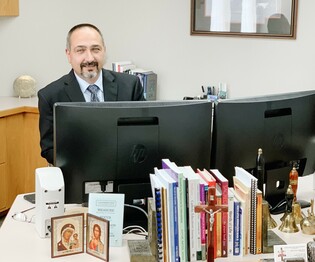 Welcome Back! - Superintendent's Blog
Posted on
Welcome back to the 2019 – 2020 school year!  This year promises to be an exciting year for the Medicine Hat Catholic family!  I am incredibly honoured to serve as the new superintendent for the Medicine Hat Catholic Board of Education and thank all of you who have shared your support as I have transitioned into my new role.
In our jurisdiction, we are committed to the education of ALL students.  We believe that Showing the Face of Christ to All is the only way to develop the whole child. We want our students to be people who take pride in fostering the guiding principles of dignity and integrity, and who truly want to make positive contributions in the world!
Whether a staff member or a student, the start of a new school year is always exciting.  Fall brings a new start as we say good-bye to summer.  The school floors are shiny and the lockers have been polished.  Excitement is in the air for the arrival of our students.  It is my wish that your excitement and enthusiasm lasts the entire year.  September is also a time for us to reflect on past practice, celebrate success, and set new goals! Rumor has it that MHCBE has an incredibly hard-working staff who genuinely want to make a difference in the lives of their students.  I have no doubt that this is true!  I am also confident that when staff, students, and parents work together, amazing things will happen!
I hope that you enjoy the last few days of summer. They are well deserved.  I look forward to our many conversations and to a year full of learning and blessings.
Dwayne Zarichny
Superintendent of Schools
Medicine Hat Catholic Board of Education