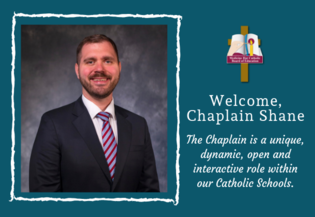 School Chaplain in Medicine Hat Catholic Schools
Posted on
The Medicine Hat Catholic Board of Education is excited to announce that Mr. Shane Lambert will be assuming the role of Chaplain for our District effective May 13, 2019.
This is a new role in our District and we are pleased to have someone of Shane's faith background join us at St. Mary's School, Notre Dame Academy and Monsignor McCoy High School. Chaplain Shane will help staff and students to grow in their faith, celebrate sacraments, connect with the parish, provide spiritual development and pastoral care within our school district. Chaplain Shane looks forward to establishing meaningful relationships through school based activities.
The Chaplain is a unique, dynamic, open and interactive role within our Catholic Schools.
Shane graduated from Monsignor McCoy High School with a full tuition football scholarship to Simon Fraser University in Vancouver, BC and then transferred to the University of Alberta where he received his Bachelor of Education. He is finishing his Masters of Divinity through Newman Theological College and is eagerly looking forward to sharing God's love with our students and to be a servant leader of faith in our District. Welcome home Shane, and welcome to MHCBE!
Official Media Release May 13, 2019- Printable PDF