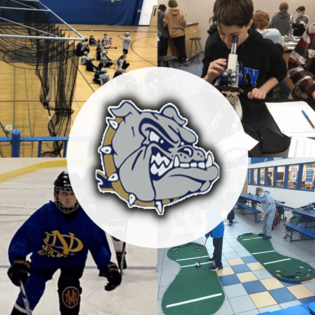 Notre Dame Academy continues to lead the way
Posted on
It's hard to believe that it's been 18 years since Notre Dame Academy opened its doors in Medicine Hat, then a new-fangled concept school attached to the South Ridge YMCA at the hip.
In many ways, it's just as leading-edge now as it was back then. After all, as principal Neal Siedlecki points out, a dozen staff from 2004 are still there.
"They're full of passion, just love being in this building, have built this school from the foundation up," said Siedlecki, who started as a Grade 6 teacher with the original group. "We work really well together. A great school relies on three P's: great programming, with great people running that programming, who have great passion for that programming. That's what's made our whole school just grow."
Those staff members have seen enrolment grow from 300 to 440, and the sky's the limit in the long run. Not only does the consistency show a level of maturity for the programming at the junior high school, it relates to a strong, caring community that students become a part of.
For Siedlecki, who became principal in 2014, the key is listening to what students want.
"What has really driven it is talking to our kids, number one, and seeing what they want and trying to build programs around their interests," he said. "If kids love coming to school and they're interested in something at school, if they're here they're going to learn something."
When it opened, Notre Dame's sports academy focused on hockey. Since then soccer, golf and baseball/softball have joined the mix. Partnerships with local groups have developed, allowing the golf kids driving range time at Cottonwood Coulee, and the hockey players a chance to develop their skating skills with Platinum Star Power Skating, as two examples.
And there's still the incredible on-site facilities, including 20,000 square feet of workout space and a spectacular gym thanks to being in the same building as the South Ridge YMCA.
While the academy programs headline the difference between Notre Dame and traditional junior highs, Siedlecki notes that until recently only half the school population was signed up for an academy.
"Next year we will have almost 80 per cent of our students in our academy programming," said Siedlecki. "I thought COVID would decline our numbers, but it's gone the other way."
What's driven the change? He believes that with few other options for kids to be involved in extracurricular activities during the pandemic, having some baked in to school life is a valuable addition.
Adding new options — such as the recently-announced Gaming Concepts and eSports, cooking, MHC Shop Program, robotics and rocketry, and much more — reminds students that they don't have to be enrolled in the athletic programs to find a place in the school either.
"We've done very well in promoting our academy programming, but we're not just an academy school," said Siedlecki. "Our school is a community school that is for all kids, we just have a specialty in (sports) for those students who are passionate about that."
"We know we have something very special here; we're very proud of what we've built together."