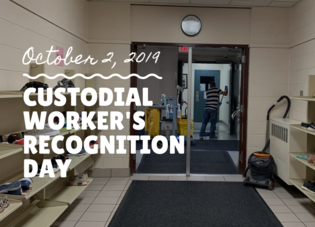 Thank You Custodians!
Posted on
October 2nd is National Custodial Worker's Recognition Day!
From the moment you step onto our school division properties, you are experiencing work of our custodial team! They clear the sidewalks around our buildings on some of the worst weather days. They clean in the evenings when buildings are empty and open the schools bright and early to check that there are no issues such as leaks, heating concerns, cooling concerns and much more.
From the front door, down the hallways, and every nook and cranny in between- our custodians are working hard to provide a safe and clean environment for another successful day of learning.
With little recognition, our custodial team strives to go the extra mile while still meeting daily cleaning requirements and building relationships with students in the hallway. We want to give them an extra special "thank you" today, and every day!