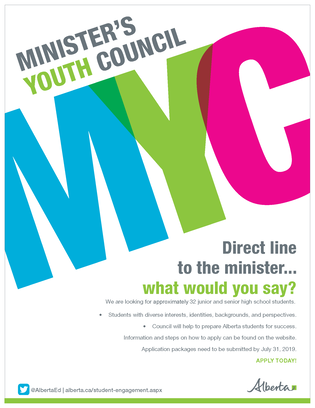 Minister's Youth Council
Posted on
Are you passionate about education? Are you in junior or senior high and between the ages of 14 and 19 (as of September 1, 2019)? Apply to be part of the Minister's Youth Council!
What is the Minister's Youth Council?
The Minister's Youth Council consists of approximately 32 junior and senior high students with diverse interests, identities, backgrounds and perspectives from all regions of Alberta. Students on the council provide their perspectives on educational issues.
Students are members of the Minister's Youth Council for a 10 month term which aligns with the school year. During the school year, the council attends 3 meetings and engages in ongoing communication and/or engagement opportunities. Meetings will be held in Edmonton in fall, winter and spring.
2019/2020 Recruitment
The deadline for applications is July 31, 2019.
Click here for application information
Minister's Youth Council Fact Sheet