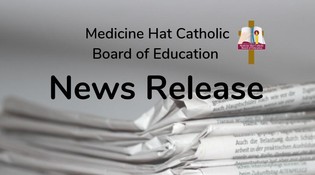 Board Accepting Applications for Superintendent of Schools
Posted on
MHCBE News Release - Superintendent Retirement & Recruitment 
The Medicine Hat Catholic Board of Education announces Retirement of Superintendent of Schools
The Board acknowledges written notification from the Superintendent of Schools, Mr. Joe Colistro, of his intention to retire from Medicine Hat Catholic Board of Education effective at the end of the 2018-2019 school year and as of July 31, 2019.
Mr. Colistro shared with the Board:
"As I enter my fifth year with Medicine Hat Catholic Schools I feel privileged to have served the District as Superintendent of Schools. Over the years I have made many new friendships and was given the opportunity to work with a wonderful, caring and professional staff."
The Board expressed their sincere appreciation for Mr. Colistro's exceptional service provided to our Medicine Hat Catholic Schools over the last five years. His commitment to student-focused learning environments and his exceptional ability to build relationships within our school community have been exemplary.
The Board of Trustees announced they will begin recruitment of a Superintendent of Schools immediately, with a timeline to fill the vacancy early in the new year with a start date of the new Superintendent effective for the 2019—2020 school year. The job posting can be found on the District website and on social media @MHCatholic.
About Medicine Hat Catholic Board of Education
Medicine Hat Catholic Board of Education is located in southeastern Alberta in the city of Medicine Hat serving the communities of Medicine Hat, Redcliff & Dunmore with approximately 2700 students enrolled in 9 Schools. Medicine Hat Catholic Schools are a publicly funded, vibrant part of the public education system in Alberta. Come join our Team!
For Inquiries Contact:
Corporate Communications
Mr. Dick Mastel, Board Chair
Medicine Hat Catholic Board of Education 1251—1st Avenue SW Medicine Hat, AB T1A 8B4
403.527.2292
communications@mhcbe.ab.ca