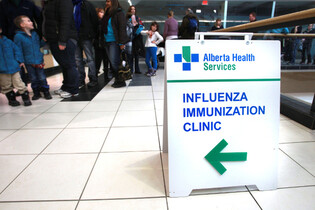 Flu Shot Drop-In Schedule
Posted on
The 2019/2020 AHS Influenza Immunization Clinics will start the week of October 21, 2019. Immunizations will be offered, free of charge, to all Albertans six months of age and older through AHS clinics, pharmacies and physicians. For general information about influenza immunizations from Alberta Health Services, please click here. 
Medicine Hat Immunization Schedule & Information
Location: Medicine Hat Stampede Grounds Higdon Hall (2055 21 Avenue SE)
Times: Drop-In from 2:00-6:00pm
Eligibility/ Age Group: 6 months of age and older
Families with a child under 5 years of age can book an appointment 403.502.8214
Drop-In Dates:
Tuesday, October 22
Tuesday, October 29
Saturday, November 2
Tuesday, November 5 
Thursday, November 21
Friday, December 20
Complete schedule of immunization clinics for Medicine Hat and area

Although immunization clinics are available until March 31, AHS urges everyone to get their shot early in the season to better reduce the risk of illness.