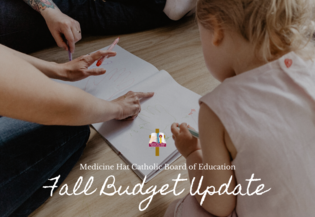 Fall Budget Update
Posted on
On Monday, November 25, 2019 the Board of Trustees for the Medicine Hat Catholic Board of Education approved:
Note: The 2019-2022 Annual Education Results Report and Three Year Education Plan combined report and summary will be presented to the Board of Trustees at the next public board meeting on December 10, 2019 @ 3:15pm.
A letter from the Board of Trustees:
November 26, 2019
RE: Fall Budget Update
On Monday, November 25, 2019, The Board of Trustees approved the Fall Budget Update and Audited Financial Statements.
Heading into the 2019/2020 school year, the Medicine Hat Catholic Board of Education was prepared to make fiscally conservative choices in order to prepare for the provincial budget release in the fall of 2019. Since the release of the provincial budget on October 24, the Board of Trustees and senior administration have been working to find solutions to balance the base grant funding shortfall of $1.3 million.
We are pleased to share that due to an increase in enrollment numbers from the projected spring numbers and the ability to utilize our reserves, we have enough funding to offset the shortfall for the current school year without a reduction in staff or program cutbacks in our School Division.
As always, we value our hard working staff and are committed to providing a safe and caring learning environment and quality educational opportunities for all. Thank you all for your patience during this time of uncertainty throughout our province.
Yours in Christ,
The Board of Trustees
Medicine Hat Catholic Board of Education

Letter from the Board of Trustees - RE: Budget Update