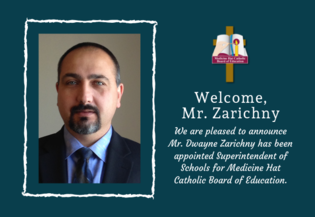 Appointment- Superintendent of Schools
Posted on
The Medicine Hat Catholic Board of Education is pleased to announce Mr. Dwayne Zarichny has been appointed Superintendent of Schools for Medicine Hat Catholic Board of Education. Welcome to our MHCBE Family!
Mr. Zarichny will begin his assignment with Medicine Hat Catholic on August 1, 2019. The Board of Trustees is looking forward to working with Dwayne in continuing the strong leadership established in the district. Dwayne will be moving to Medicine Hat from Wainwright, Alberta with his family this summer. The Board of Trustees congratulates Mr. Dwayne Zarichny on his appointment and welcomes him to Medicine Hat Catholic!
The Board extends their sincere appreciation to our outgoing Superintendent of Schools Mr. Joe Colistro who will be retiring at the end of this school year. Mr. Colistro has provided exemplary leadership for Medicine Hat Catholic Schools.  His strong commitment to Catholic education, as well as his emphasis on building positive relationships both within and outside of the school community was an excellent addition to our Catholic Schools.
Media Release May 16, 2019- Printable PDF