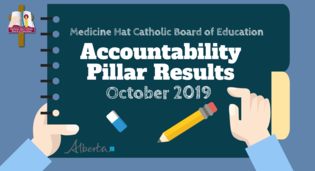 Accountability Pillar Results, AERR & Three Year Education Plan
Posted on
At the December public board meeting, MHCBE Trustees were presented with the Annual Education Results Report (AERR) & Three Year Plan along with the 2019 Accountability Pillar Results.
Over the years our Catholic schools have continued to demonstrate high results in many of the Accountability Pillar categories resulting in very high marks for our school division and across the province! We are extremely grateful for our staff that provide the quality education needed to reach high results such as these! You all should be very proud of the work you do. 
How well did students do? Click the links below!
December 11, 2019
Dear MHCBE staff and families,
Medicine Hat Catholic Schools Accountability Pillar Results are once again, excellent!
Our Catholic schools continue to demonstrate outstanding results while showing improvement in a number of areas. These results are directly related to strong leadership in our schools and the exceptional work of teachers and support staff who, day in and day out, deliver quality instruction in a faith filled environment.
As the primary educators of our students we value our parents who play a key role in the education of their children, and together we make a difference in the lives of children and young adults every day. We are proud of the hard work of our students who remind us why we are part of the vocation of Catholic educators. Thank you ALL for supporting Catholic education!
Our Catholic schools are rooted in biblical values and it is through this lens that we provide Christ centered support to the students and families entrusted to us. Community is at the heart of why we exist, and in partnership with our families and our parishes we strive to continue to create a sense of belonging and community. We are proud that this continues to show in our results over the years. You are all where God needs you to be. Thank you and congratulations. Keep up the great work!
Christmas blessings to you and your families!
Mr. Dick Mastel, Board Chair
MHCBE Board of Trustees
"Our academic success if directly related to the strong leadership in our schools, the excellent work of our teachers and support staff, our supportive parents and from the hard work of the students themselves". Congratulations!