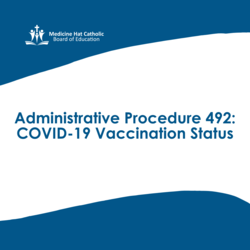 At the Public Board Meeting on October 12, the Board of Trustees passed a motion directing our senior administration team to develop an Administrative Procedure (AP) regarding COVID-19 vaccines related to school staff and visitors entering division buildings.
This Administrative Procedure requires all adults who enter division buildings to provide their COVID-19 vaccination record or present proof of a negative COVID-19 test. This includes (but not limited to): division employees, contractors, practicum students, on-site partners, volunteers, parents, guardians and members of the public including school bus drivers. Effective December 13, 2021.
This action aligns with the guidance of Alberta Health, Health Canada, the Ministers of Health and Education and Legal Counsel. All division stakeholders are asked to review this new procedure. 
Effective December 13, 2021:
All adults entering division buildings must provide proof of COVID-19 vaccination OR proof of a negative COVID-19 test.
When visitors enter the school building a staff member at the front office will verify their vaccination status by scanning their QR code.
If not fully vaccinated by December 13, 2021, the adult requesting entry must provide proof of a negative COVID-19 rapid antigen screening test or PCR test completed no more than 72 hours prior to the time they are entering the division building.
This procedure applies to all sporting events, tournaments, concerts and extracurricular events hosted inside any Medicine Hat Catholic school division building.
This Administrative Procedure does not apply to division students. 
AP 492 Highlights: