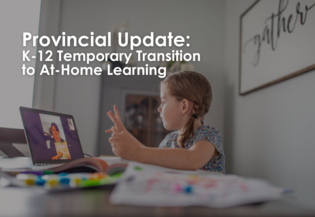 Provincial K-12 Education Update May 4, 2021
Premier Jason Kenney has announced new public health measures to limit the spread of COVID-19 in Alberta.
As part of these enhanced measures, all classes K-12 will temporarily transition to online learning starting Friday, May 7. Students will return to in-class learning on Tuesday, May 25. We are confident that our schools are well prepared to transition to online learning. Your school administrator will share at-home learning plans with families in the coming days.
Note: Exceptions will continue to be available for students who require specialized support so they can continue to attend in-person classes as necessary. These will be addressed on a case-by-case basis.
We understand that there are many questions at this time and we appreciate your patience and understanding as we work through this transition together. As always, staff and student safety and well being is our first priority. We will continue to share updates with families as we receive more information.